Technical Specifications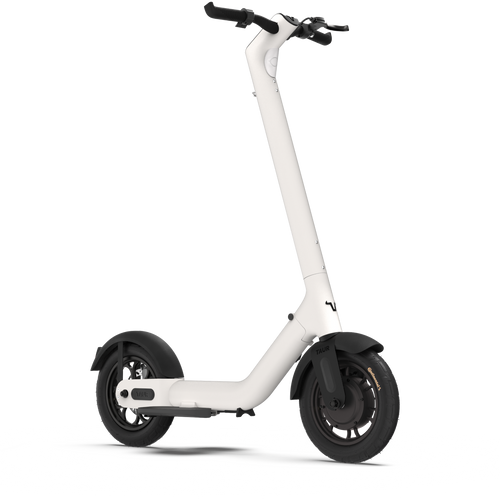 Summary
TOP SPEED

24mph /
39kph

RANGE

15-20 miles

TIRES

12.5"Continental®

CHARGE TIME

2 – 3 hrs

MOTOR

500 W

FRONT LIGHTING

Cree® LED
300 lms

REAR LIGHTING

80 + 100 lms

DISPLAY

OLED +light ring

JOYSTICK

5-way

WATER RESISTANCE

IP55 (rain)

DIGITAL SECURITY

RFID keyfob / card

APP

iOS / Android

LENGTH

108 cm

PLATFORM WIDTH

32 cm

WEIGHT

37.6 lbs /
17kg

MATERIAL

Recyclable aluminum

MAX WEIGHT (WARRANTY)

100 kg /
220lbs

COLOR

Off-white only
Materials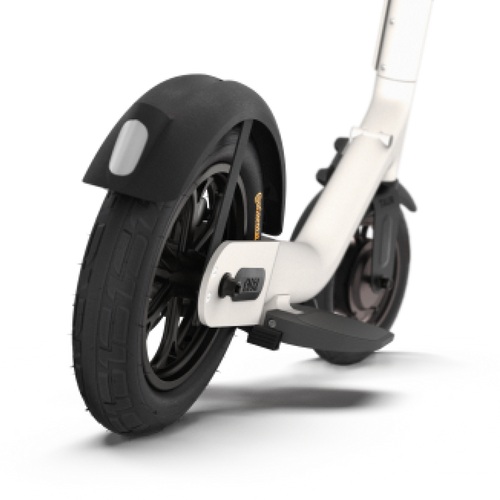 Frame
Aircraft-grade aluminum. Fully recyclable.
Paint & Color
Off-white only. Automotive-grade powder coat finish.
Foot platforms
High-strength, lightweight aluminium alloy, die-cast. Surfaces are covered with a durable, high-grip tape for all weather conditions.
Handlebars
Black aluminum with silicone rubber grips. Hypoallergenic.
Mudguards
High impact-resistant polycarbonate and ABS
Power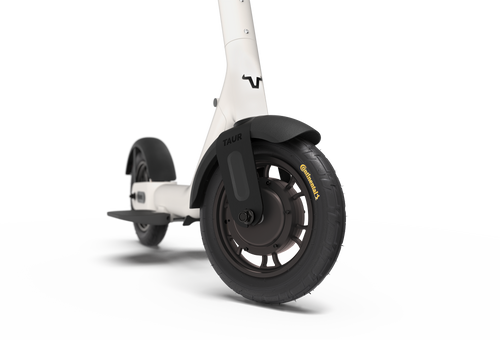 Motor
500W, 1300W peak. Front wheel drive.
Range / Performance Modes
– Uncapped: top speed 24mph, range ~15 miles
– Cruise: top speed 15.5mph, range ~20 miles. A sensible power reduction and typically as fast as you want to travel anyway (and often a state/national speed limit).
– Eco: top speed 12mph, range 20+ miles
Hill-climbing
Approximately 12.5% – based on an 80kg rider going 12mph for at least 500 metres (rolling start, not standing).

When comparing hill-climbing statistics, make sure to find out tested rider weight, speed, distance travelled, etc.
Speed restriction?
Yes. Product will arrive unrestricted, rider can adjust.
Battery capacity
368 watt-hours (lithium-ion high power discharge).
Battery certification
Our quality cells have been UL-2271 safety standard approved.
Battery Management System
Taur's proprietary BMS monitors the battery 100 times per second to ensure it's healthy and happy. Any performance or safety issues can be caught, and caught quickly.
Maximum rider weight
While Taur is capable of carrying heavier folk, our warranty only covers riders up to 220 lbs (100kg).
Charging

Charge time
– 0-80% in 1 hour 50 mins (85% in 2 hours).
– 0-100% in 3 hours.
Power outlet
Any standard wall power outlet will do. No special infrastructure or converters required.
Wheels
Brand
Continental®. Air-filled and Kevlar-reinforced for puncture resistance.
Tire size
2 x 12.5 inch tires (code: 12 1/2 x 2 1/4 (63-203)).

Brands such as Continental or Kenda can be found online or in some bicycle repair stores.
Brakes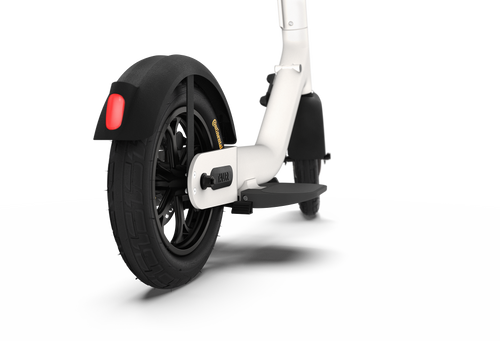 Front
Variable regenerative brake. Uses the stopping force of the 500W motor to charge the battery as you slow down.
Rear
140mm hydraulic caliper disc brake.
Variable Braking
A small squeeze of the brake lever provides a small amount of braking force to both wheels – and vice versa.
Lighting
Front
300 lumens Cree® LED, high power directional beam. The light is curved and frosted to provide side-on visibility to 240°. Pacman/pie-chart visual to show % of scooter visible
REAR LIGHTING SYSTEM
Rear light
80 lumens LED. This light is also curved and frosted to provide side-on visibility to approx. 200°.
REAR LIGHTING SYSTEM
Rear projection light
A 100 lumens Cree® LED is focused through optics onto the rider's back, fully illuminating them from behind. Head to toe visibility to approx. 180°.
Brake lighting scheme
When braking, a bright solid red light appears on the rear light. At night, the entire rear lighting system shines with extra brightness, same as a car.
Ride Control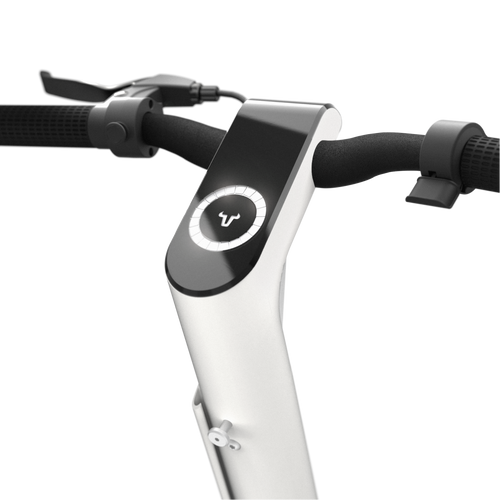 Accelerator
Thumb-throttle on right handlebar. For safety reasons, the motor will not engage if the wheel isn't spinning (>1mph). Riders must therefore hold the thumb-throttle down + kick off to get going.
Traction control
Fully holding down the throttle will result in smooth acceleration in all conditions.
Brake
Hand brake lever on left handlebar. Braking is variable on both wheels – see 'Brakes' section above.
Interface & Display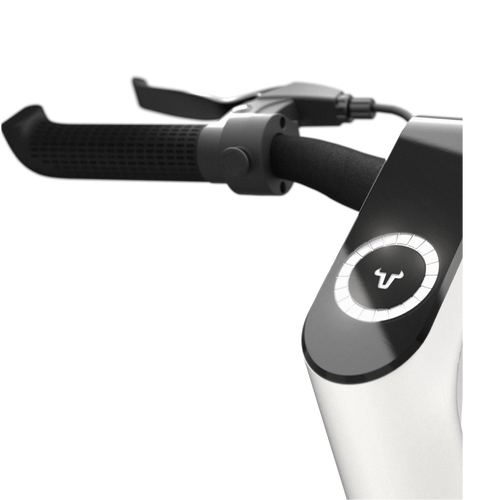 5-way joystick
The joystick is mounted on the left handlebar, and is easily controlled with your thumb while riding. It can move up, down, left, right and in. Functionality currently includes:

– sounding the horn
– turning on lighting
– switching performance modes
Digital display
RGB ring with integrated OLED display.
Information displayed
Speed, battery level and performance mode.
Horn

Volume
Polyphonic sounder up to 95 decibels. Audible over traffic noise.
Position
Behind Taur's 'bull' logo in the middle of the handlebars, protected by a water-resistant Teflon cover. Specifically located to project sound forward.
Security

Digital lock
To unlock and ride, place an RFID key on the display. 2 key fobs included with every unit.
Physical lock
Through-frame and wheel (front wheel recommended). Lock not included.
Ride in the rain

Enclosure
IP55 rated. Protected against dust ingress that could be harmful for the normal operation of the product but is not fully dust tight. It is protected against solid objects and water jets projected by a nozzle (6.3mm) from any directions.

Storage Modes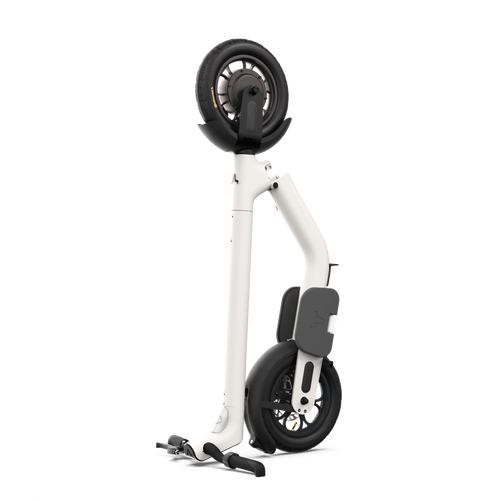 Center Stand
Taur has a motorbike-style 'center stand'. Roll Taur forward to snap the stand back underneath the frame.
Center stand on fold rest
The center stand can be used when the product is folded too.
Folded vertical stand
Taur can also fold and stand vertically on the rear wheel and tips of the handlebars.
Portability

Fold
Twist the fold lever and let the steering column collapse back. Pull the mudguard back and let it clip in.
Dimensions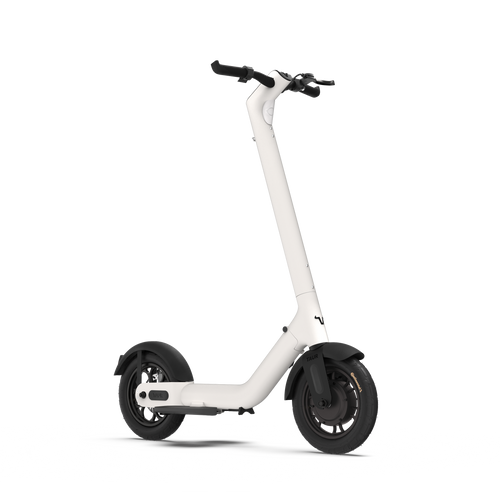 READY TO RIDE
Height, unfolded
STORAGE
Height, folded vertical stand
Environmental Requirements

Temperature when riding
23 to 122 degrees Fahrenheit / -5 to 55 degrees Celsius.

Performance impacted at extremes (particularly the cold).
Temperature when charging
50 to 113 degrees Fahrenheit / 10 to 45 degrees Celsius.
In the box

Contents
– Taur electric scooter
– 1x Charger
– 2x RFID smartcards
– Assembly Toolbox
– Assembly manual
– 1x spare inner tube
– Merchandise (if in stock)
Sustainability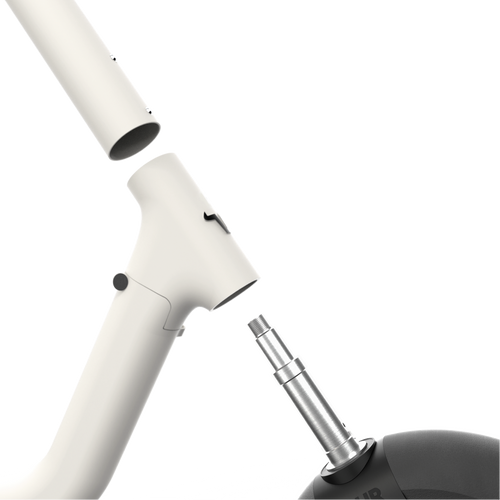 Recycling
– Aluminum is the most easily recycled metal and it's by far the most common material in the product.
– All metals in Taur are fully recyclable – and are 'single material', which makes recycling easier.
– Taur maximises use of recyclable packaging (no plastics – all recyclable cardboard and foams)
Efficient, long-lasting design
– Highly robust aluminum frame– Over-engineered electronic solutions
– Exceptional quality components (battery cells, brakes, wiring, connectors, LEDs, etc)
– Puncture-resistant Continental tyres (low air pressure, low rolling resistance)
– High levels of ingress protection (IP55)
– Smart Battery Management System will maximise battery longevity to minimise environmental impact
Local Maintenance
– Taur is made of 5 core modules plus standardized bicycle components.
– If anything goes wrong with Taur we've designed it to minimise the cost and difficulty of getting it fixed, instead of throwing it away.
– It's also possible to do all this locally. Both regular wear and tear and deeper issues can be fixed by the customer or by a local bicycle repair store – without needing to ship the product across the country, using more packaging and emissions in the process.